Maintaining a swimming pool is a quite complex activity and really requires the services of a professional. KNOX specialise in swimming pool maintenance, taking away all the hassle of ensuring that the pool and its environment are clean and healthy, so that all you have to do is enjoy it!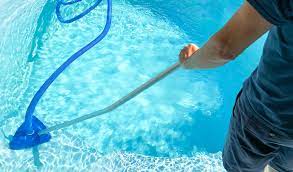 Our Services
What's Included:
Brushing and cleaning the tiles, fabric or lining of slime or stains caused by leaves and other debris.
Vacuuming the pool
Skimming the surface and removing the debris
Cleaning the filtration system
Keeping the pump room clean and maintained
Advising you of worn parts, and replacing these, where requested.
Removing bacteria from the water using chlorine
Backwashing of the filter unit to ensure all foreign matter is removed
Testing the water quality for the correct pH levels and re-balancing to the correct standard (which should remain effective for up to a week depending on the amount of use, and on weather conditions)
What's Excluded:
Cleaning pool decks, patios, and any pool furniture
Pump maintenance
Laboratory testing
Any major repairs related to the filtration system
Repair of any water leakages
Any types of civil works
Any works related to pool construction defect
Important Information
Basic pool cleaning equipment is to be provided by the customer – details of which will be provided
Charges are based on the size of the pool
Pools can be serviced up to six days a week, excluding Fridays and public holidays
For all jobs, kindly note that full access to the property is required, as is the complimentary use of domestic water, and access to the electricity supply, where required
We may use a registered and approved sub-contractor who is specialised in swimming Pool services.
Note:
An additional cost is payable for the above 'excluded' services, for which we would be delighted to provide a quotation on request.