Difference Between AC Duct Cleaning and AC Servicing
May 03, 2023 in Blogs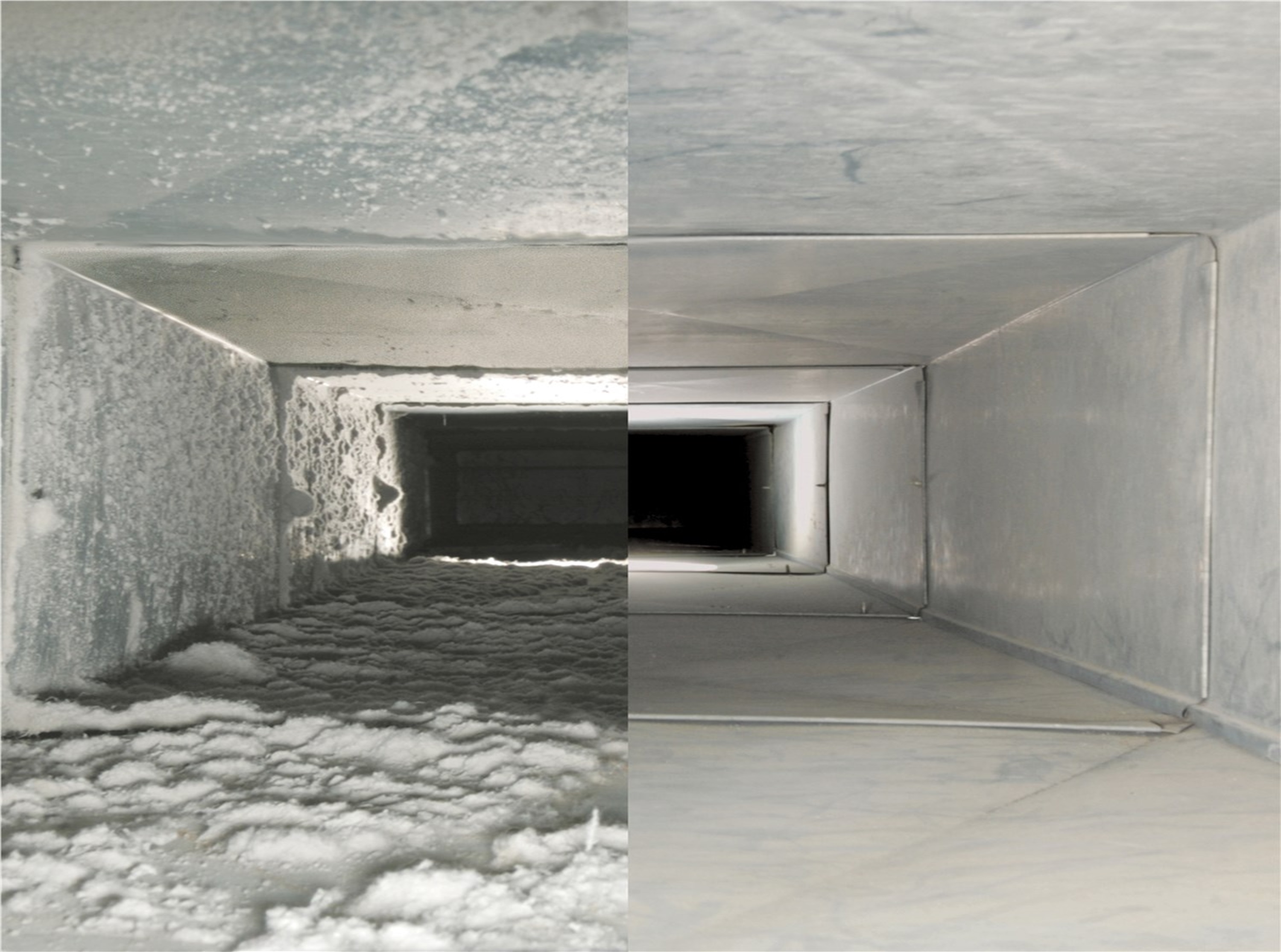 Do you also sometimes feel that a residence or office is stinky and you can't figure where it's coming from? Surprisingly, it is probably your Air Conditioner as the dirty and/or partially blocked AC ducts may be the result of the bad smell. The picture explains what an uncleaned duct looks like and why it leaves that unpleasant smell, especially if days pass-by and the dirt has gathered.
What to do in this situation?
We rarely think about the quality of the air we are circulating through our property with our AC. Ducting is a major problem which we often take for granted. It often also gives us high utility bills. Dirt and grime can attract dust, allergies, insects that can cause many unwanted problems, which you definitely would not like to welcome in these times. Dirt in the system is totally normal with levels of pollution, and you can get rid of it with the help of a professional AC duct cleaning service provider in your locality.
But you must be wondering that the AC Maintenance and Servicing AMC with your maintenance company already covers the duct cleaning. The answer is a clear 'NO', unless already specified in the contract otherwise or mentioned scope of work.
What does AC Servicing cover?

Cleaning of filters

Cleaning and checking of electrical components

Topping up of refrigerant gas (gas is charged separately)

Belt replacement, lubrication and cleaning of drain lines

Placing of drain flow tablets in drip trays

Changing compressor oil and filters, if necessary

Minor painting touch-ups and minor repairs to the insulation
Two things to keep in mind while, selecting a professional:
Pay attention to the problems they tell you about your system

Pay attention to the services they offer at what cost
Usually, companies only vacuum the air duct, which might not be beneficial to you as you might have to again face the same issue later . This is because the AC duct is not as thoroughly cleaned and fixed as it should be to avoid a quick re-occurrence of the problem.

What does AC Duct Cleaning cover?

Pre-Inspection

Vacuum inside the duct pipes

Powerful Vacuum connected to main trunk line to collect airborne dust particles performed with industrial machine

Heavy duct agitation to dislodge the debris and dust

Clean all return registers and grills.

Dead Rodent Removal, if required

Blow Compressed air through the duct vents to remove any stick dirt particles

Return Vent Cleaning

Duct System Deodorisation
Signs that your AC is facing Ducting issues:

1. A smelly room:
AC ducts might be filled with mold and debris that expel these smelly particles into the air. Hence, this air simply doesn't smell good due to the dirt gathering in the duct. And the fact is these lingering odors just don't go away. No matter how many times you spray air freshener, the odor remains week after week.
Instead of spraying air freshener one should check the air duct, whether it's clean or dirty. Once again, don't bust out your air freshener as the first reaction to an odor. Instead, check the air duct to see if the musty smell is coming from it, maybe mold must have accumulated. You will be totally surprised to see how dirty the duct can be and how smelly mold can get, especially if left unattended. Hence, cleaning the duct is very essential in order to get away from an unbearable smelly room. Duct Cleaning makes sure the home/office is left odor free.
2. Less air flow:
The other ramification of dirt is that it blocks airflow through the duct. The physical existence of mold is enough to limit airflow and prevent the cool air flow from reaching all the parts of your home / office or any other property. If the purpose of an air duct is to increase ventilation in your property, mold prevents the duct from ventilation. You need to clean this up as soon as possible. In particular, older homes are susceptible to this problem.
There are many cases of smelly and un-cleaned ducts in older homes that went unchecked for years, and when a new owner moved in, the duct was completely full of hostile debris. Fortunately, you'll likely be able to detect this backup via smell far before it gets completely stuck. However, if you notice a decrease in ventilation, it could very well be attributed to clogged air ducts. Check the ducts, appoint a professional to clean them and enjoy a refreshing and cool flow of air.
Increase in Utility Bills:
Air Ducts makes an incredible pairing where the AC unit generates cool air, and the duct disperses it around your property. If your air ducts are filled with molds, dirt, debris then your AC will not be able to do its job efficiently. If the air travels freely the unit doesn't have to work as hard to cool your property's temperature. If the ducts are unclean and smelly it will pass a musty smell and in turn, this will consume more electricity and you'll see an increase in your monthly utilities bill. There's even a possibility that you might be inclined to not even use the AC at all.
When your home feels sticky and unpleasant, some people immediately turn the AC system on in hopes of solving the issue. Although this usually works, it doesn't really get to the root of the problem. The true source of the problem might lie within your dirty air ducts. Instead of trying to blow dust particles away with the AC, clean the ducts and get rid of them in the first place. This is a much more sustainable solution in the long run.
Benefits of Duct Cleaning
Savings on electricity bills

Complete elimination of offensive odours

Airborne Dust Particle Removal

Reduction in mould and fungi growth in the duct

Improved indoor air duct quality

Protection from bacterial infections and other diseases

Removal of allergens from duct air

No risk of fire that may be caused by dust and debris blockages

100% guarantee of service
Suggested frequency of AC duct cleaning:
Residential villa and Apartment owners should get it done at least Once a year
Commercial spaces should go for at least Twice a year
Why Knox Technical?
Our handyman services and Special Projects Team will carry out any further jobs required and these will be quoted appropriately-
We use the best technicians who can handle the job

The machinery like roto brushes, etc. are latest and well maintained

Timely and efficient pre-inspection as well as completion of the task

Guarantee of long term sustenance post the service execution

Trusted by major brands, commercial properties, real estate giants, and thousands of households in Dubai
Due to this ongoing pandemic, finding quality service professionals is very difficult. But with KNOW Technical Services everything is possible they are best known for its highest customer satisfaction rate in the industry.