6 Best Tips to Renovating Kitchen
May 11, 2023 in Blogs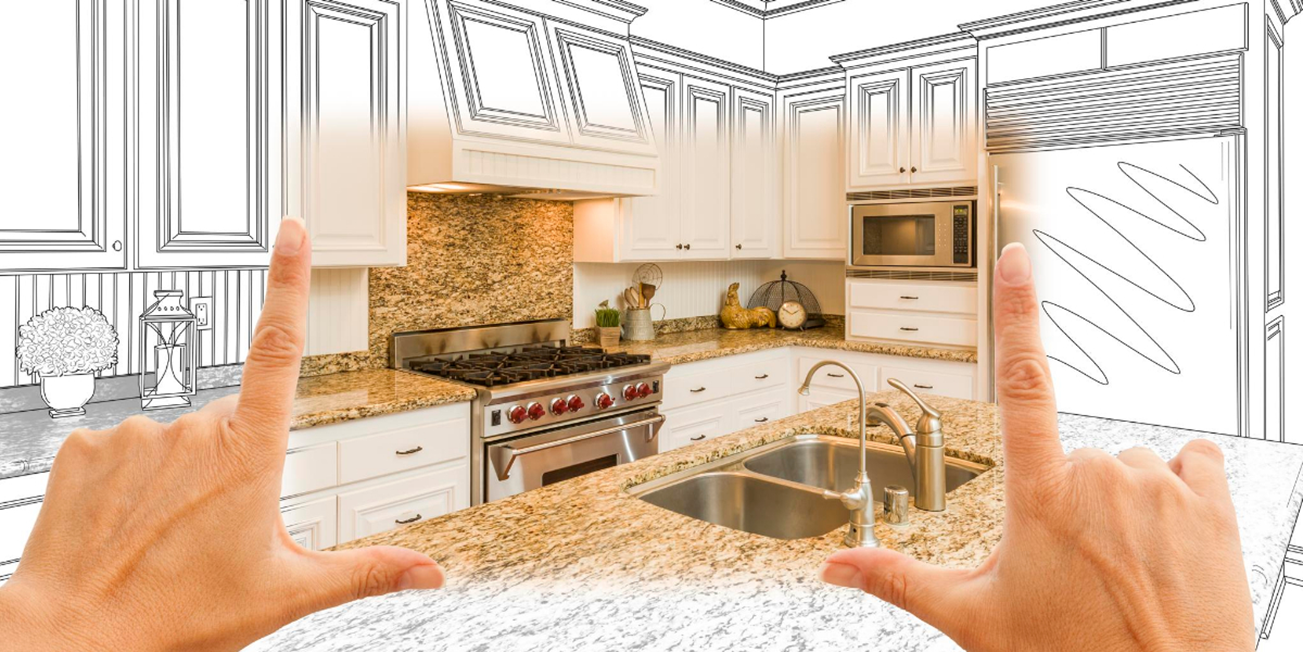 Whether you're just starting to think about renovating the kitchen or you're well into the process, it's no secret that kitchens are one of the most popular rooms in a home – and for good reason!
The kitchen is a place where we cook, eat, socialize and spend time with family. It is also a place where we can express our creativity and individuality. A renovated kitchen can be a great investment for your home and your lifestyle.
They play a huge role not just in the overall look but also the functionality of a space. Here are five tips that will help make the process easier and result in your kitchen that looks and functions better than ever!
1. Start with a Plan for your Kitchen Renovation Project.

Before you do anything else, make a plan. This will help you prioritize what needs to be done and help you stay on track.

When it comes to renovating a kitchen, there are a few things you should take into account before starting. First, make a plan. This will help you prioritize what needs to be done and help you stay on track. Second, be realistic in your expectations. Don't expect everything to be perfect the first time around - perfection is not possible, and trying to make it so will only lead to frustration. Finally, decide to have fun with the project! A little bit of creativity goes a long way when it comes to kitchen renovations.

Here are some more practical tips while renovating kitchen -

You should have an idea of what you want to achieve with your kitchen renovation. Do you want to create a new kitchen within an existing space, or do you want to completely redo the entire room?

You should also think about your budget. How much money are you willing to spend? How much flexibility do you have in terms of design and layout?

Finally, think about how much work you are prepared to put in. Are you up for a DIY project, or do you need help from a professional?

2. Think about Your Style

When you're renovating a kitchen, it's important to keep in mind your personal style. This means choosing colors, materials and accessories that reflect who you are and what you like. Choosing the right kitchen design for your home in Dubai is a difficult task. There are so many options to choose from and it can be hard to know which one will work best for you.

The first thing you should do is decide what type of kitchen design you want. Do you want a modern kitchen or a traditional one?

Do you have enough space in your home for a large kitchen or do you need something more compact? Once you have answered these questions, it will be much easier to find the perfect kitchen design for your home.

3. What to Look into Before You Start Ordering Material?

Choose the Right Kitchen Cabinets for Your Home

Start by assessing your current kitchen cabinet needs. Do you need more storage? Are you looking for a specific type of cabinet, such as a pantry or spice rack? Once you know your needs, start narrowing down your options by reading reviews and comparing prices. Cabinet materials must be made from wood or other natural materials, not plastic or other man-made materials. Plastics can only be used for accessories such as handles and rain gutters. Glasses should also be the toughened type.

Once you have a few cabinets picked out, measure the space where each one will go. You'll also need to account for the height of the cabinets and the depth of the drawers. You can buy premade cabinets or build them yourself. If you're building them yourself, be sure to use a cabinet maker who can install the door hinges, kick panels and other hardware.

While your cabinets are getting ordered, it's time to choose an interior finish. You have quite a few choices: painted cabinet doors? a solid wood finish? a laminate one? The choice of an interior finish is a personal one.. Whatever you decide, make sure it's in keeping with your kitchen's style and color scheme.

Choose the Right Countertops

Countertops are a major part of the kitchen. They are the surface that you prepare food on, eat off of, and clean up after. They can also be a focal point in your kitchen design. They come in a variety of materials, sizes, and textures. Some are made of wood or laminate, while others are made of granite, tile, or stainless steel. Here are some factors to consider when choosing a countertop:

Material: Countertops can be made from a variety of materials, including wood, laminate, granite, tile, and stainless steel. Some materials are more durable than others and may last longer.

Size: Countertops come in a variety of sizes. Some are small enough to fit on a kitchen countertop, while others are large enough to fit an entire baking sheet in the oven.

Texture: Countertops can be smooth or textured. Smooth countertops are less likely to trap food and liquid, making them easier to clean. Textured countertops offer more of a natural look and can be less prone to stains, making them a popular choice for many homeowners. Whether you're looking for a classic look or something more unique, there's a texture sure to suit your needs.

Colors: These can be chosen based on your personal preference or what will match your kitchen design best. There are many different colors to choose from including black, white, brown, red, etc.

Choose the Right Flooring

Choosing the right flooring for your kitchen renovation is a big decision. It can make or break the look and feel of your kitchen. There are many different types of flooring materials to choose from, but not all of them are suitable for kitchens.

The most popular type of flooring material for kitchens is ceramic tile. Ceramic tiles are durable, easy to clean, and come in a variety of colors and patterns. They also come in a wide range of prices so you can find something that fits your budget. Ceramic tiles are not the only option though. You can also choose from vinyl, linoleum, or hardwood floors if you want something different than ceramic tile.

4. Choose the Right Contractors for Renovating Kitchen

When it comes to renovating a kitchen it is a big undertaking, you want to make sure to choose contractors who are experienced and knowledgeable. There are a few things to consider when choosing a contractor for kitchen renovation: their experience, their knowledge of kitchens, and their ability to work quickly-

Research different contractors and find a list that you can meet and interview before you trust.

Make a list of the specific tasks you want to be done and ask the contractor to provide a quote for each one.

Choose the contractor who provides the best quote but in a transparent manner. Don't get fooled by low costs because there will always be a risk of cascading costs as the project of renovating the kitchen is underway.

Make sure to ask for references and do your research before hiring anyone.

Agree to the terms and conditions of their service agreement only once you are satisfied with a break up of material costs provided in a document along with the mention of the service fee.

Have all your paperwork in order, including a signed contract and any permits or licenses required by law before you commence with the payment to avoid delays in starting and thus prolonging the project.

5. Follow the Rules & Etiquette for Renovating Kitchen

If you're thinking about renovating your kitchen for any reason- for style, function or both- there are a few things you should know before doing anything. First and foremost, there are government rules that need to be followed in order to not violate any laws. You might need to get a go-ahead from your Building owner or Villa Real Estate owner. You need to get a permit from your municipality if there are structural changes that need to be made in the kitchen.

In consultation with a professional renovation contractor figure out the detailed list of qualified materials and appliances to be fitted. While the project is underway, protect the flooring and walls from water or other material damage. For the safety of your family members if staying while the kitchen renovation project is on, use proper lighting and ventilation. This will also be highly beneficial for the safety and productivity of the maintenance company team.

When it comes to renovating your kitchen on your own, there are a few rules that should always be followed. For example, always wear protective gear and use caution when working with hot appliances. Make sure your electrical wiring and points are configured. Keep in mind the arrival of ordered products. You don't want to look like a warehouse with products arriving before the need for their installation.