5 Things to Keep in Mind Before Signing an AMC (Annual Maintenance Contract) With Maintenance Company in Dubai
May 11, 2023 in Blogs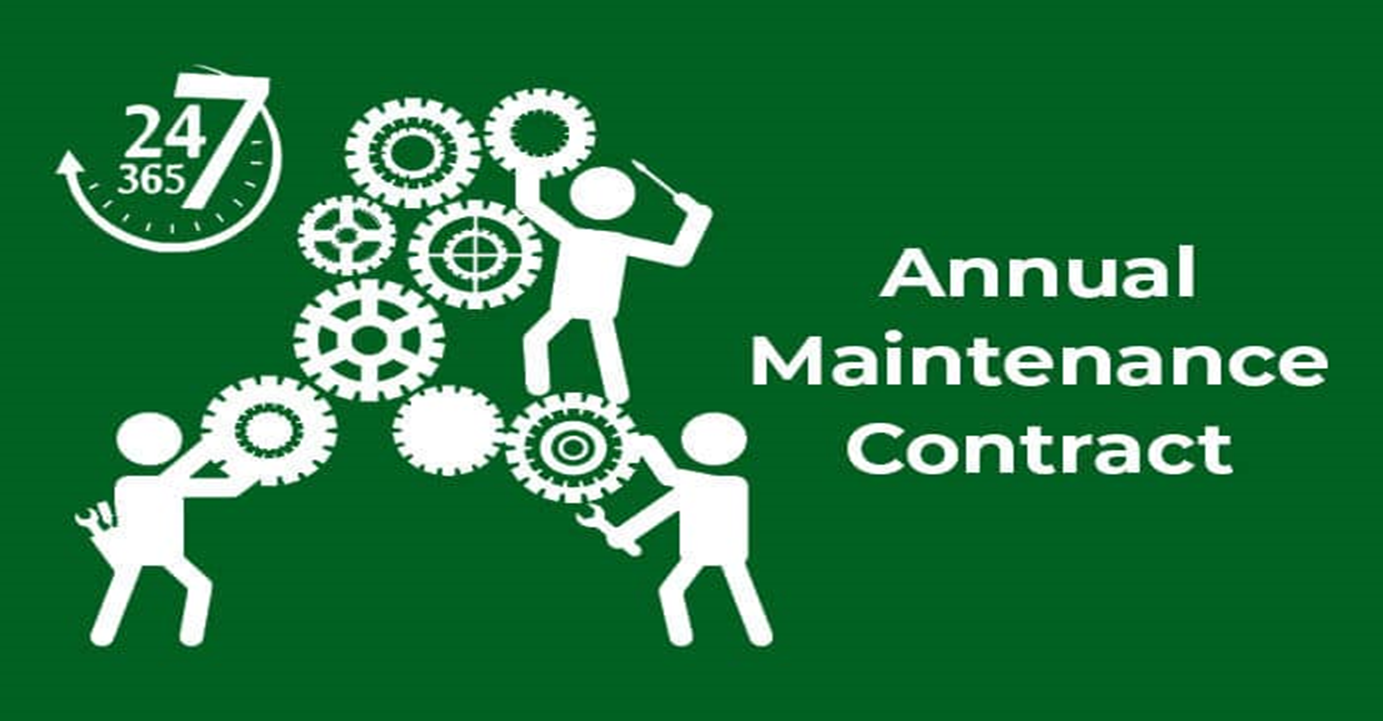 What is an Annual Maintenance Contract (AMC)?

An annual maintenance contract (AMC) is an agreement with the service provider for the repair and maintenance of property used by you. Annual maintenance contracts are a great way to cover basic services on products.

It takes care of both preventive and reactive maintenance of the Mechanical system at home that you have asked to cover in the contract for eg; AC unit, plumbing, Electrical light fittings, carpentry job etc. The annual maintenance contract ensures that the service provider will repair any problems that occur or replace equipment either when they are not functioning. As to minimize the consequent impact on downtime or irregularities in ensuring comfortable home living or client business continuity.

Most Annual Maintenance Contracts have coverage of certain terms. These may include services that are required for the proper functioning of Mechanical, Electrical, and Plumbing at the home or office for which the AMC is being done.

What are the benefits of an Annual Maintenance Contract (AMC)?

Fixed costs: Maintenance planning can twirl into unpredictable costs that notably affect the entire budget. With an inclusive annual maintenance contract, you can control and account for all maintenance costs on a long-term, fixed basis.

24/7 maintenance support: A maintenance contract ensures that, no matter what the time or what the situation, you will have an expert available to resolve the problem.

Logistical improvements: An extensive maintenance contract takes a holistic approach to all aspects of your maintenance practice.

Extended equipment life: By providing the resources to consistently adhere to an effective scheduled or predictive maintenance strategy, a long-term maintenance contract is designed to improve useful equipment operation, ultimately resulting in better quality of life and/or work environment for the parties involved.

A typical annual maintenance contract format includes:

The name and address of the involved parties, usually a business and the company providing the service

Price of the contract

Type on AMC selected

Annual maintenance contract terms and conditions

Penalties for breaking the contract or contract termination clause

Frequency of service related to the AC, electrical, plumbing, carpentry, masonry and cleaning

Year Scheduled of preventive measure maintenance service

List of the areas and entities covered for service

Things to keep in Mind while signing the contract:

Time-based: Contracts are set an hourly rate or rate for specific time units (weeks, months, days, etc.). A fixed unit of price is associated with each hour of work, which is calculated annually for the total number of hours. Make sure you select the time suitable for the property and read the 'Term and Conditions carefully based on call-out - how many times the maintenance team will come when you call them? Most of the cost-effective maintenance companies give you a limited call-out which means they will come only 8 to 15 times depending on different companies' SOP. Whereas standard companies give unlimited calls out, you can call them as many times and will come.
Difference between packages: different packages are offered the most common Basic package includes AC, electrical, plumbing and water tank cleaning (for villa owner) rest others have more or less services depending on the package.
Who to call or where to call - always remember and take the number of the person with whom you have signed the contract. Generally, he/she is the right contact person or some standard companies have their own toll-free number which means you can contact that number in terms of any job request you need to place and they will send the team of technicians to solve your issue.
Emergency response time - when a minimum response time is mentioned that is mostly applicable to the emergency call you make. That is 60 minutes mostly.
What is considered as emergency- very important question to ask, Emergency means absolutely no light, no water, major leakage, major blockage and no AC in your entire premises means an emergency to the Maintenance service providers.

Per Device or Area involved: Contracts add a line-item cost for each device, piece of equipment, and/or area of work that will be covered under it. Inform the agency if you have to add or discard items/device accordingly.

Based on the life of the equipment: Contracts can include a pro-rated cost based on the expected lifetime of the device or equipment that is covered. For instance, if something is coming close to the end of its lifetime, the AMC could be more expensive.
Replacement vs. Repair: Contracts may differentiate based on the type of service offered especially considering the repair or replacement costs of particular items.

Additional Services / Conditions: Contracts can include additional conditions based on services provided to customers. Several extraneous offerings can be covered under the contract, such as transportation of replacement parts. The business could choose to pay more to have transportation and replacement parts included within the contract, rather than separately billed.

Pros of Signing Annual Maintenance Contract with Agency:
AMC is budget-friendly and saves the unexpected costs for repairs

AMC helps you focus on your business/home adequately due to 24/7 support

AMC includes major to minor issues

Taking AMC makes your life easier as the agency makes a calendar for servicing

Planned servicing or regular checkups of the products, areas, and services

Engineers visit for routine preventive maintenance as per the contract

Provides stand-by support for any product which needs to be taken to the service center immediately to reduce the breakdown time

Due to AMC the lifespan of the products and areas included increases and wear and tear is minimized

AMC keeps your business fully functional with the help of the well-maintained hardware
We usually talk about AMC, AMC benefits, terms and conditions but just for detailed understanding there are two types of Annual Maintenance Contract

1. Comprehensive AMCs:
a) Repair and Replacement
b) Non-Repair and Replacement AMC

Comprehensive AMC are divided into two parts: Repair and Replacement of the faulty products- here one is not charged for the labour or for the replacement. Whereas in Non-Repair and Replacement, AMC replacement is not included, one is not charged for the labour but one has to pay for the replacement of the parts.

2. Non- Comprehensive / Call Basic AMCs:
One is chargeable for both repair and replacement.
AMCs can also be divided into 'On-site' and 'Carry-In' AMCs.

On-Site AMC: In 'On-Site' AMC, the service technicians come to your residence/office to do the repair work or carry defective pieces to the service station and bring it back once it starts functioning.