Plumbing is a highly specialized discipline requiring the right skills and experience, so our advice to any home owner is … leave it to the experts. KNOX only use highly experienced plumbers in our professional plumbing team. We can meet all your small plumbing repair needs, from the replacement of tap washers, to repairing leaking gate valves.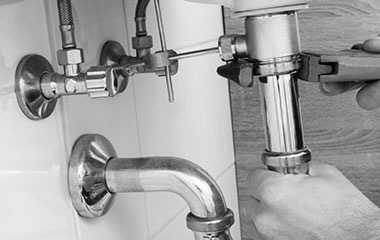 Our Services
What's Included:
On-site inspection and rectification of minor plumbing problems (which can be completed within 2 hours)
Where appropriate:
Repair of visible broken pipes
Repair of over-flowing toilets
Rectification of low or no water pressure
Clear clogged waste pipes
Fix drainage blocks in showers and sinks
Identify and replace corroded or faulty flexible hoses
Repair or replace faulty gate valves and faulty mixer tap
What's Excluded:
Replacement of water pumps and/or motors / pressure kits
Replacement of water heaters
Underground leakages
Repairs related to concealed piping
Any Construction defect
Important Information
There is a minimum charge of AED 250 for a callout valid for 2 hours.
Additional labour hours after the first 2 hours will be charged at AED 250 per 2 hour
Fees shall be payable 100% on arrival of the technician.
We may use a registered and approved sub-contractor who is specialised in plumbing related jobs
A job will be finished by the team in the same visit unless parts need to be ordered in order to complete the job, for which the job completion will be delayed. The call out fee shall however be still charged.
For all jobs, kindly note that full access to the property is required, as is the complimentary use of domestic water, and access to the electricity supply, where required.
Payment for spare parts must be made in advance to proceed with the job
Parts and materials are subject to availability in the UAE
Note:
An additional cost is payable for the above 'excluded' services, for which we would be delighted to provide a quotation on request.