Do you dream of the thought of sitting, relaxing, and enjoying the peace and tranquillity of your garden, but struggle to even find the time to keep it in shape? Our professional landscape services are fully comprehensive, whether it's just keeping your garden looking trim, neat and tidy, or designing the garden of your dreams. We'll do all that for you, so that all you have to do is sit, relax, and enjoy!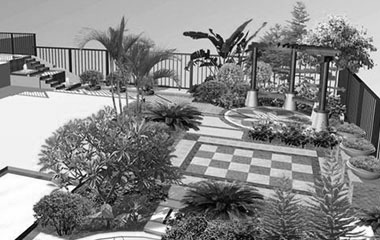 Our Services
What's Included:
Removal and disposal of all unwanted weeds
Removal and disposal of all unwanted leaves
Levelling of border soil
Fertilising the lawn in order to keep it in tip top condition
Pruning flowers and plants professionally!
Keeping hedges in trim
Trimming trees under 3 metres
Manual watering of the garden (where there is no automatic irrigation)
Checking the irrigation system and advising of the need for maintenance or repair
What's Excluded:
Control of pests
Provision of consumables including: sweet soil, manure, netting, seeds, flowers, bulbs, and lights
Trimming trees over 3 metres
Maintenance and repair of the irrigation system
Large-scale disposal of garden waste
Important Information
Specialist Services
Our specialist horticultural and landscaping personnel offer the following additional services for all sizes of garden:
Advice on the right plants, grasses, bushes, and trees for your garden
Landscape design and landscaping including: garden design, building path ways, ornamental pools, fencing, turfing, installation of irrigation systems, and landscape repair.
Note:
An additional cost is payable for the above 'excluded' services, for which we would be delighted to provide a quotation on request.