As time rolls on, our homes naturally suffer from the daily wear and tear of normal family life – the décor becomes a bit tired and drab – the kitchen that looked so modern when you first moved in now looks old fashioned – and the bathroom is on its last legs. Solution – a KNOX makeover. At Knox we have a team of dedicated home improvement specialist designers who can work with you to transform your home from top to bottom, or just focus on making good that one room that's crying out for attention.
Renovation and Refurbishment
We can design and build extensions, manage makeovers, knock through walls to create one larger living space, reposition, and/or build new walls.We can renovate kitchens and bathrooms as well as supply and install a whole range of ceramic tiles, marble floors, new ceilings, doors and archways, lighting, and staircases. No home improvement is too big or too small, from building an entire floor in your villa, to hanging a few pictures on your walls. Our team of professional tradesmen cover the full range of trades from: plumbing to electrical work. Whatever the trade, we've got it at KNOX.
Project Design and Planning
Our project design team will visit your home to discuss your requirements and offer a comprehensive evaluation based upon those requirements. Being design professionals, we can also offer sound, practical advice and guidance on ways in which we can enhance your home, adding value to your living space, and to the price of your property. Our residential alteration approvals service is provided free of charge.
Our Guarantee
Our professionally trained and highly equipped teams ensure they leave your house impeccably clean at the end of every job. Our prices are exceptionally competitive, offering a high standard of quality, but at genuine value-for-money prices.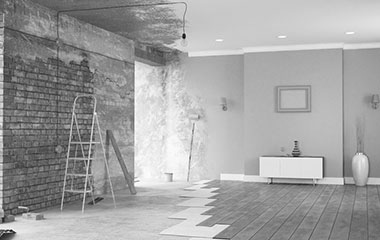 Important Information
Quotations are delivered by email. Once you accept the quotation, the fee will be charged as per the payment plan mentioned in the quotation.
For all jobs, kindly note that full access to the property is required, as is the complimentary use of domestic water, and access to the electricity supply, where required.
We may use a registered and approved sub-contractor who is specialised in such services.
Parts and materials are subject to availability in the UAE.